Aloha Adventure FAQs
Thanks for your interest in Walk with a Doc's Aloha Adventure! If you have any questions that aren't on this page, please feel free to reach out.
Event Questions: contact@walkwithadoc.org
Tech Questions: team@racery.com
WWAD Office: 614-714-0407
Event FAQs
Once I'm registered, how do I log in?
In the upper right-hand corner there is an outline of a person. Click that and then select "login".
You will be prompted to validate your device by entering the email address you registered with
Go to your email, and look out for an email that says "Hey YourName, validate this device in Walk with a Doc Aloha Adventure!". Open that email and select "confirm". This will automatically log you into the platform. Check your spam folder if you don't see the email in your inbox. Email team@racery.com for help.
You'll be able to start logging activity when the event starts on February 14th.
How do I track my activity?
Once the adventure starts on February 14th, you'll log your activity each day (or several times a day!) on the Racery website or download Racery's iOS App or Android App. Click the Log Activities tab, fill in the information (distance or time depending on the activity), then hit submit! Your activity will automatically be converted into "walking miles". Check out this video for a demo.
Can I connect my wearable device?
Feel free to use your wearable to help you keep track of your activity, but you'll still have to manually input the information into Racery.
How are activities converted into walking miles?
Here's a message from Racery: Because we're trying to create a roughly even playing field, all activity conversions are based on a translation of activity time into steps into miles. Thus, an hour of moderate cycling will register as 4.83 miles on the route, while the same period of breaststroke will register as 5.14 miles. The conversions appear extremely precise but are in fact necessarily fuzzy — there is as yet no way to affordably and scientifically equate all these activities. Learn more here.
How do I delete an activity?
On a desktop computer…
Click your picture/initials in the top right corner.
Click my bio.
Find the activity you wish to delete.
Click the gear icon.
Click delete.
Then you can head back to the Log Activities section of the Racery page and log the activity again with the correct miles/minutes.
On the mobile app…
Click My Logs.
Click the log's date.
Click delete.
Confirm delete.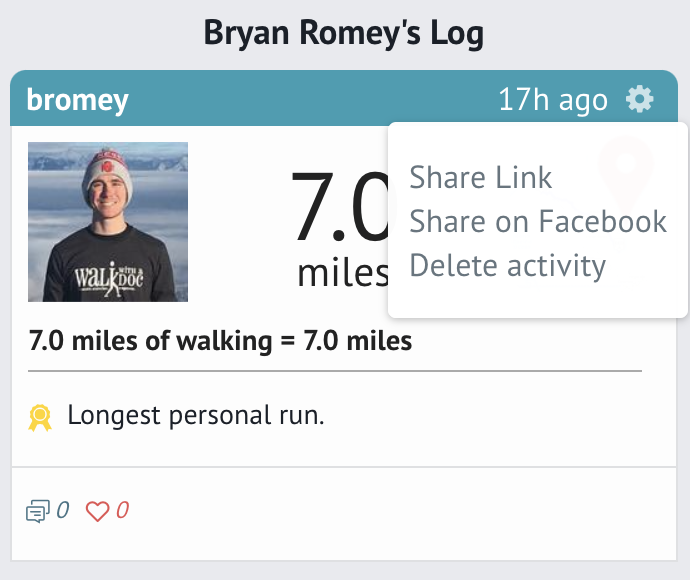 I'm not a fan of cold weather, any tips?
We hear you, and that's partly why this Adventure is taking place in February – to motivate you to move even during the winter! Check out Dr. Sabgir's recent newsletters with tips for indoor activities and outdoor activities in cold weather. The awesome thing about Racery is that any form of physical activity counts and will automatically convert to "walking miles". You can walk, run, bike, do an indoor video workout, etc.
Registration FAQs
When does registration open and close?
Registration opens in January 2022 and it's FREE for the first 1500 participants. Registration will close once we've reached capacity, so make sure you register soon to reserve your spot!
How many miles do we have to go?
This is not a race and there is no set distance. Make yourself a personal goal and travel as far as you'd like! Push your limits and enjoy the views. And remember, any physical activity counts and will automatically be converted into walking miles.
I'm ready! How do I register?
Visit the Registration Page by clicking here and hit the "Join Now" button
Type your email address. If you participated in one of our previous virtual events, please use the same email address for this Adventure. You'll be automatically logged in to Racery if you're not already logged in.
Type your mailing address
Click "Join!" at the bottom
Boom, you're in! You should receive a welcome email from Racery. If you don't, please email team@racery.com
How do I register a 2nd person?
After registering yourself, click your profile picture in the top right corner of the Racery page. Click "logout". You should now see the "Join Now" button again where you can register a 2nd person.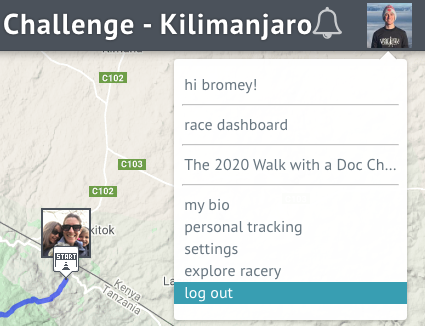 Are we doing this in teams or individually?
We're logging activity individually, but please use the messageboard and join the Facebook group to help encourage each other! You can also create/join a "group" to help you keep track of family, friends, coworkers, etc. Here's how:
1. Head to our Racery page
2. Login (if you're not already)
3. In the top right corner, click your picture
4. Click "my bio"
5. Click "EDIT MY BIO"
6. You should be able to add or remove groups.
After the group is created, you can easily share the link with others that you'd like to join!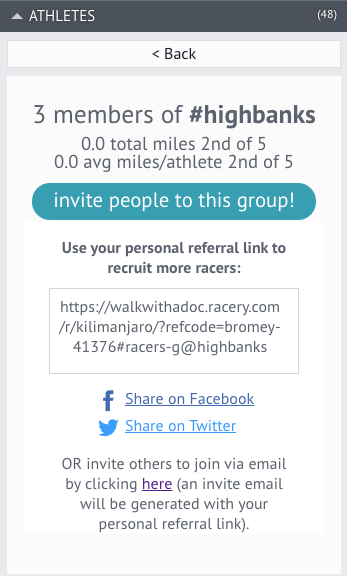 Additional FAQs
Head over to the Racery FAQ page for many more frequently asked questions!
I'm new to Walk with a Doc – can you tell me more about it?
As an international non-profit organization, Walk with a Doc is committed to inspiring communities through movement and conversation with FREE physician-led walking groups. While these walking groups typically meet in-person throughout the year in over 500 communities around the world, the COVID-19 pandemic has caused many of our chapters to press pause. This virtual event is an opportunity for us to continue to move, connect, and learn about health in a safe way! Learn more about Walk with a Doc here.