On November 12, 2018, at American Heart Association 2018 Scientific Session in Chicago, the Department of Health and Human Services presented the 2nd edition of the Physical Activity Guidelines for Americans. The first key guideline? Adults must move more and sit less. This recommendation was based on new evidence that shows a strong relationship between increased sedentary behavior and increased risk of heart disease, high blood pressure, and all-cause mortality. All physical activity, especially moderate-to-vigorous activity, can help offset these risks.

We now know that meeting the recommendations in the Physical Activity Guidelines for Americans consistently over time can lead to even more long-term health benefits. See here for details, but here are some of the evidence-based health highlights:
For youth, physical activity can help improve cognition, bone health, fitness, and heart health. It can also reduce the risk of depression.

For adults, physical activity helps prevent 8 types of cancer (bladder, breast, colon, endometrium, esophagus, kidney, stomach, and lung); reduces the risk of dementia (including Alzheimer's disease), all-cause mortality, heart disease, stroke, high blood pressure, type 2 diabetes, and depression; and improves bone health, physical function, and quality of life.

For older adults, physical activity also lowers the risk of falls and injuries from falls.

For all groups, physical activity reduces the risk of excessive weight gain and helps people maintain a healthy weight.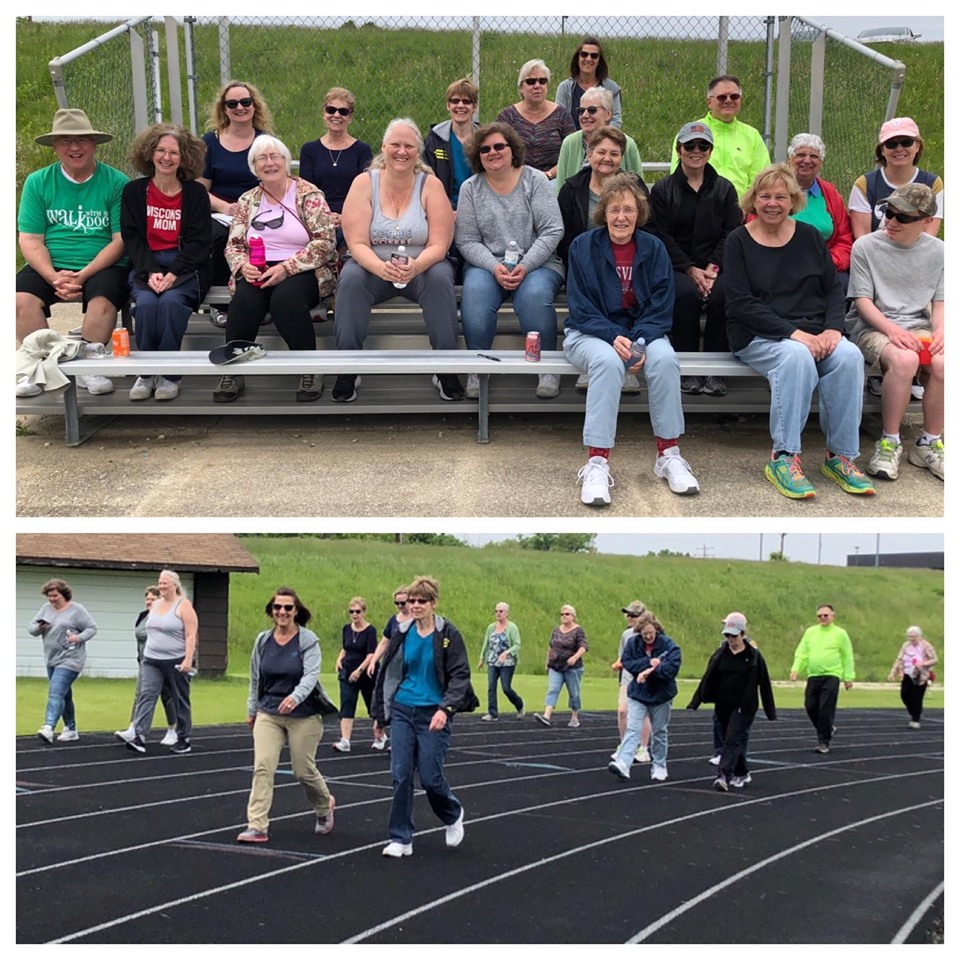 According to the American Heart Association, walking has the lowest dropout rate of any physical activity. Walking is low impact, and it is easier on the joints than running. Walking is even safe (with their doctor's okay) for people with orthopedic ailments, heart conditions, and those who are more than 20 percent overweight. For every hour of brisk walking, life expectancy for some people may increase by two hours.

Walk with a Doc is a walking program for everyone interested in taking steps for a healthier lifestyle. What better way to spend a Sunday afternoon than on your feet making strides toward increasing your lifespan and healthspan! Before the walk kicks off, you'll have the opportunity to have learn about health topics from Mary Eldridge, M.D. Then, throughout the hour, you can ask her your general health questions as you walk at your own pace.

A Diplomate of the American Board of Clinical Lipidology, Dr. Eldridge is one of only 19 certified clinical lipidologists in Wisconsin. Dr. Eldridge uses an integrative, holistic approach to help her patients extend their lifespans and healthspans, optimize their lifestyles, and decrease atherogenic, or plaque-promoting, cholesterol. Dr. Eldridge was raised in Kenosha, and she graduated from Bradford High School. She went on to graduate from the University of Notre Dame with a B.S. in Science Preprofessional Studies. Dr. Eldridge earned her medical degree at the Medical College of Wisconsin, and she was elected to Alpha Omega Alpha Honor Medical Society. After training at The Mount Sinai Hospital in New York City, she returned to her hometown of Kenosha, Wisconsin, to open her own practice, Lipid Specialists, S.C. Her practice is located in the same building where Dr. Eldridge's grandfather, Paul A. Capelli, M.D., opened his obstetrics & gynecology practice in 1964 and where her father E. John Eldridge, M.D., has practiced ophthalmology since 1988.

The Walk with a Doc program was started in Columbus, OH in April of 2005 by Dr. David Sabgir, and it has expanded throughout the country. All you need to get started are comfortable clothes and supportive shoes. There is no pre-registration for our Walk, and it is free! We look forward to seeing you.
Sources:
1) Walk With A Doc
2) Top 10 Things to Know About the Second Edition of the Physical Activity Guidelines for Americans (2019). Health.gov. Retrieved 8 March 2019, from https://health.gov/paguidelines/second-edition/10things/
3) Why is Walking the Most Popular Form of Exercise?. (2019). www.heart.org. Retrieved 8 March 2019, from https://www.heart.org/en/healthy-living/fitness/walking/why-is-walking-the-most-popular-form-of-exercise