2022 Aloha Challenge
Bonus event! February is Heart Health Month and we're celebrating with an adventure! Show your heart some love by joining us for two weeks of movement (any kind you like), connecting with others, and getting inspired to eat heart healthy foods as we virtually travel through the Hawaiian Islands. Let's improve our heart health and have fun TOGETHER!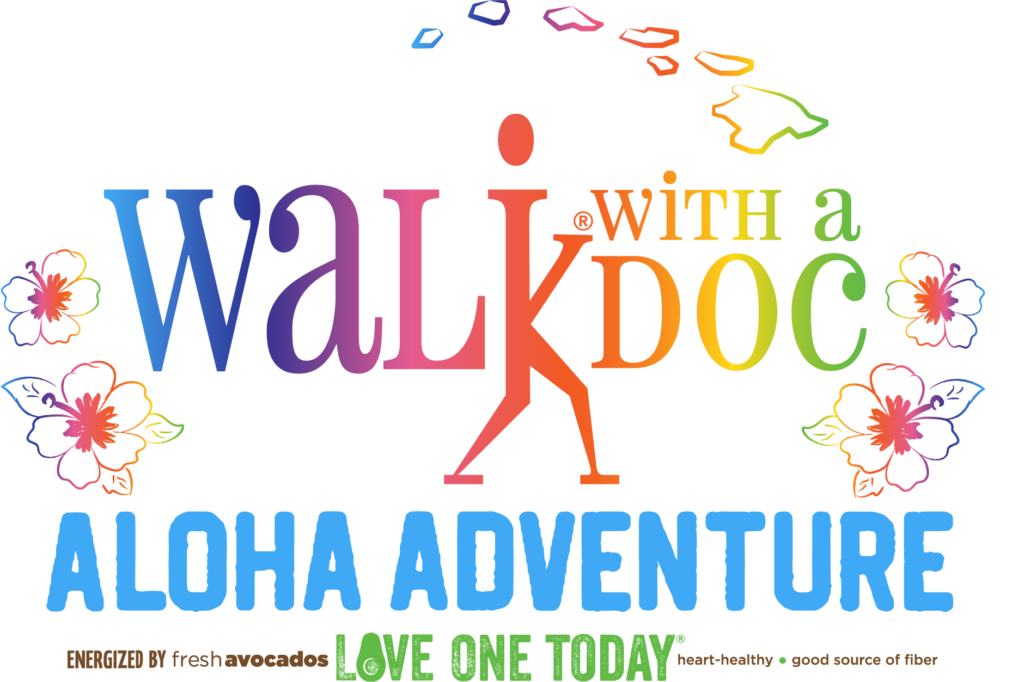 About our Annual Walk Challenge
While our typical in-person Walk with a Doc programs are free and ongoing throughout the year, the annual Walk Challenge is a way to bring together our walkers and doctors through one big, exciting event. We push our limits, encourage each other, and raise money that allows Walk with a Doc to expand our programming and impact even more lives. Check back soon and follow us on social media for details of our next Walk Challenge.
2021 Walk Challenge – Marathon Edition
The 2021 Walk with a Doc Challenge was an incredible success!! From October 22nd – November 5th, participants set a personal goal to complete one, two, three, or four virtual marathons in Austin, London, Tokyo, and Peru. Together we walked over 22,000 miles and raised nearly $45,000 for Walk with a Doc. Thank you for your incredible support and generosity!
2021 Grand Canyon Adventure
Bonus event!! In honor of Heart Health Month, we partnered with Fresh Avocados – Love One Today® for a special walk adventure from February 13-26, 2021! Movement and heart-healthy nutrition (hello, fresh avocados!) combined to fuel our bodies as we virtually trekked the Grand Canyon from rim to rim with a legion of 1,063 walkers worldwide.
2020 Walk Challenge – Kilimanjaro
In 2020, we spent two weeks moving along Mt. Kilimanjaro with 487 participants from around the globe! In this virtual challenge, participants logged their activity and watched their progress along the 44.2-mile route while taking in resourceful health tips from our docs at virtual basecamps! We truly enjoyed the opportunity to be socially connected during this period of physical distancing.
2019 Walk Challenge – New Albany, OH
The inaugural Walk Challenge was a one-day event where participants walked anywhere from 5 to 50 miles, whatever was a personal challenge for them! WWAD HQ hosted an in-person event in New Albany, OH and we also had participants around the world who took on the challenge in their own community. What an incredible day!