Virtual WWAD Sharing Tools
Thanks for your willingness to share the Virtual Walk with a Doc series! Now more than ever it's important for all of us to find creative ways to stay physically active and socially connected. Virtual WWAD allows us to do that while also learning from healthcare experts around the world. See below for some easy ways to share with your friends, family, coworkers, etc.
---
Follow our social media channels and be on the lookout for new videos every weekend!
Example Posts:
Join us this Saturday for a Virtual @walkwithadoc event! After spending a few minutes learning health tips from a healthcare professional, we encourage you to get out for a walk in your neighborhood, a local park, or even in your house. Learn more about the #VirtualWWAD series or sign up for email updates at https://walkwithadoc.org/virtual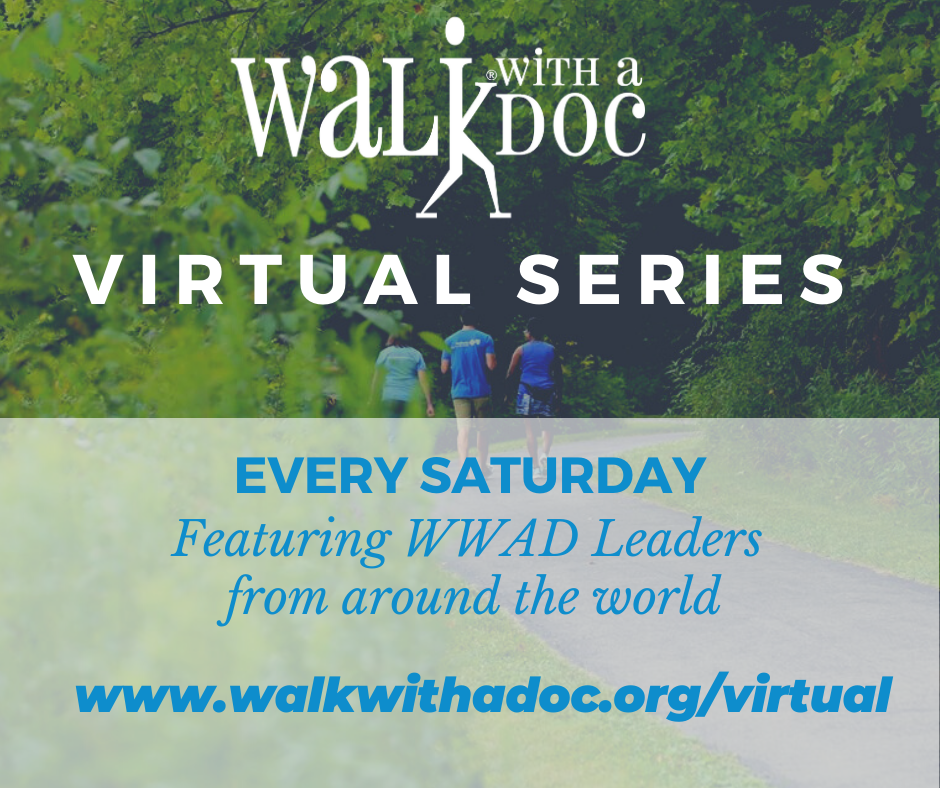 ---
Now more than ever it's important to stay physically active and socially connected. Check out the Virtual @walkwithadoc series for a safe, fun, and FREE place to get some steps, learn about health, and meet new friends. https://walkwithadoc.org/virtual
---
Check out this Virtual Walk with a Doc event featuring @SanjayGuptaMD, a neurosurgeon and Chief Medical Correspondent for CNN, and Dr. David Sabgir, a cardiologist and founder of the @walkwithadoc program which helps inspire communities through movement and conversation. I'm heading out for a walk after watching and encourage you to do the same! https://youtu.be/-rvxOh5BJqQ

Learn more about the #VirtualWWAD series and share with a friend: https://walkwithadoc.org/virtual
---
Example Email:
Hi NAME, I'm part of a group called Walk with a Doc, a nonprofit that inspires communities through movement and conversation with physician-led walking groups. During this season of physical distancing, Walk with a Doc is now hosting weekly virtual events to provide health education and encourage movement. I encourage you to check it out this week and then head out for a walk! You can learn more or sign up for email updates at www.walkwithadoc.org/virtual