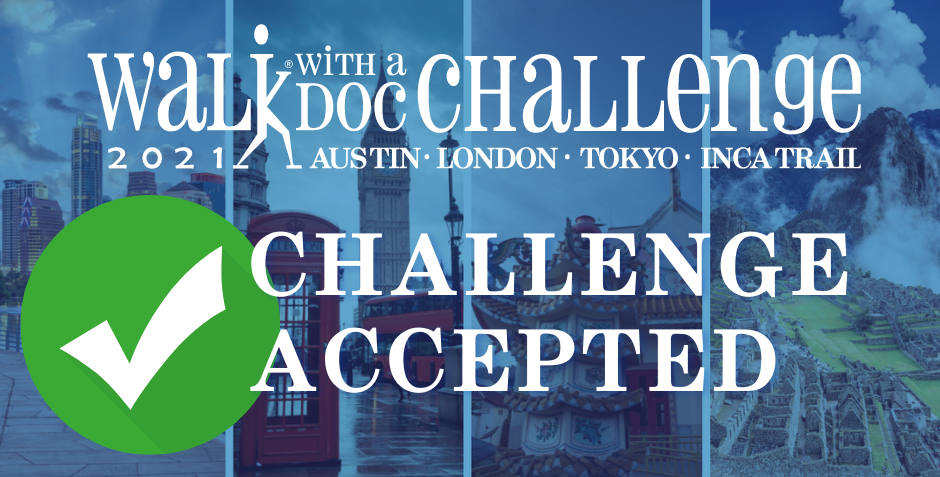 Its time! Get ready for two weeks of movement, health tips, inspiring stories, new friendships, and FUN! Thank you for accepting this challenge and supporting Walk with a Doc. Here's how to make the most of the next few weeks.
Kickoff Event
Move Your Own Way
Whether you've been training for weeks or just now dusting off your walking shoes, it's time to move your own way (walk, garden, strength train, swim, bike, yoga, badminton – you get the idea). Starting on Fri. October 22nd, log your activity each day (or several times a day!) on the Racery website or download Racery's iOS App or Android App.

Click here for FAQs if you have trouble logging into your Racery account.
Celebrate
The best part about the Walk Challenge is connecting with other walkers around the world! You can do this in one of two ways:
1. Join our Facebook Group
2. Use the messageboard on Racery
We're going to cover a lot of ground during this two-week journey around the world, so let's help support each other and get connected. Write a post to introduce yourself and let fellow challengers know why you've chosen to embark on this journey. Throughout the two weeks, share your daily successes/setbacks and encourage others.
Basecamp Videos
Stay tuned for encouraging words from our health experts at virtual basecamps. New videos will go live on the WWAD Facebook Group and all the videos will also be available here after they air.
Music Playlist
If you're like us, you like to listen to some tunes while you move. Check out the WWAD Spotify playlist for 16+ hours of upbeat songs that are sure to get you moving. PS – You can create a Spotify account for free if you don't already have one!
Share With Friends
It's not too late to join the challenge! We're stronger in numbers, so don't forget to invite family and friends to join the fun! Use the simple tools on the Racery Page or click the button below for some easy ways to share.
Support the Movement
Don't forget that you can donate or fundraise during the Challenge. If you hit $100 you'll be invited to join us for a VIP Celebration Party after the event!
Whether you donate yourself or ask friends and family to help support you, 100% of every dollar raised will help Walk with a Doc expand our reach and bring the power of walking, health education, and social connection to the masses.
What's your "why"? Reducing the risk of heart disease? Cancer? Stroke? Another one of these reasons? Whatever it is, know that these generous contributions will have a life-long impact on many people around the world.
Let's Do This Thing!
Event Questions: walkchallenge@walkwithadoc.org
Tech Questions: wwad-4-marathons@racery.com
WWAD Office: 614-714-0407
Click Here for Frequently Asked Questions